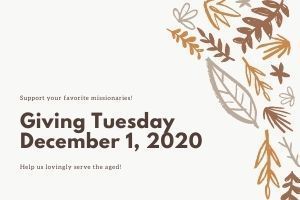 As we approach the holiday season. please consider supporting SALT in our efforts to serve the residents of the Carmelite homes. Giving Tuesday is right around the corner, December 1! 
Here are the ways your donation will help:
$25 will assist us in buying supplies to do creative activities with residents in our homes.

$50 will enable us to purchase of t-shirts for the SALT programs in 2021.

$100 could help a volunteer with travel expenses to participate in programs.
Visit our donation page to share the gift of service this season - Click here!